If shortwave race, tak CQ WW DX Contest. This race is for most amateur radio operators over public holiday and going to them all year. Some travel around the hundreds and thousands of kilometers to remote corners of the world, that there 48 h competed with other radio amateurs.
Win CQ WW DX Contest is considered a great success, but as it is not important to win the Olympics, but to participate, so we decided we also participate in the CQ WW Contest-u. It is a different opponent with different equipment and other equivalent rival site? Not. So we just compare yourself and find out what are our capabilities and skill.
Since we completed shortly before the race verticals (yet only 80 meters band), so in the setup we occurred improvement and we were curious, whether the new antenna certify.
Since the SSB race is not in our radioclub great interest, So we came together in a cooperative menejpočetnom, a to my OM6MW, Sleep OM0AAO a Rudo OM4TQ. Just like last year OM4Q.
We started the race later, because Mojo OM6MW responded to repeated alarms. We broke the rule and let him fall asleep, and already it was impossible to wake. It should be noted, that us to first notify, so for that we ourselves. Therefore, we begin the race with a delay of about 30-minutes.
Since they tormented me the whole contest health problems, which have been strongly and the vocal - sound SSB handicap in the race - start of the race was very fast. I spent more search&pounce as calling the call. Although this process does not reach such a speed as call challenges, but lets you select stations strategically. Ted also, those points and where are multiplying.
A comparison over CQcontest.net you may notice, that the number of connection Although lag behind OZ0TX, But in the morning, our scores have offset. later us OZ0TX rebounded, which it is due to much better results from the 40 m band. Scores to be seen, that properly we stepped on the heel SN7H. Those us on Sunday and overtake, when we slowed down the pace. However, it was seen, 20m that they can not be equal. While our number of connections for this band stopped by calling 459, SN7H so that made the connection 961. excellent result!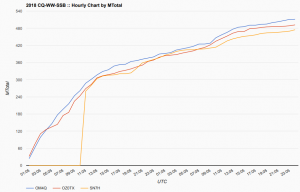 New verticals went perfectly. Surprisingly, this antenna to receive stronger than the inverted V. In the morning, I have not yet verified, Is not switch antennas connected in reverse, but I was assured, not. So we will have to look around a bit antenna.
We not interpret during the day we open a 10 m zone, so those 9 connection after 1st day is rather the result of tropo propagation pozemenou wave as a real opening. Quite soon there was a closure zone 15 m and 20 m also.
Since we last year, which was exactly 10 years of my 1.CQ WW Contest, then the team MW5W, They went more socially and pay a visit, so he showed, this year we are trying more. He looked like this course earlier in the year 2017:
The main part of the broadcast in the evening and the night from Saturday to Sunday procured Mojo OM6MW with sekundujúcim Rudo OM4TQ. When I picked up the baton, so the log was almost 1200 link. Strong stretch was between 21 – 22UT, when he wrote 125 link (4 multipliers, 130 points).
morning came Jožko OM4AQ for consultation and monitoring. Therefore broadcast for some time stopped and dragged SN7H the spot.
Later, Mojo OM6MW managed to capture the opening 10m, thus our score for this band moved on 78 concentration and 33 násobičov. Me again managed to capture the opening 20m towards NA, wherein the call for the call called out a number of stations. In this lesson score grew by 106 thousand points, most throughout Contest.
At the end of a contest, we alternated frequently. In the penultimate hour, I managed also to challenge 80m cause pile-up EU stations and this time was the connection member 4 th most successful in Contest.
Of course, course of the contest looks different years, when the solar flux higher. by https://www.swpc.noaa.gov/news/solar-cycle-24-status-and-solar-cycle-25-upcoming-forecast but we are quite deep with SFI = 69, What are the results of all the stations signed.
Finally, our score stopped at the number 2005 link a 1 618 432 points. In this regard, we have our score compared to 2017 improve the 54% to 58% number of connections. Thanks to all for a great experience and we look forward to welcoming you at the other Contest as OM4Q and OM0A!