Dá sa contestovať bez stožiara a poriadnej antény? This is an article, ktorý určite neodporúčam majiteľom kvalitných anténnych sústav a veľkých koncových stupňov.
It started weeks earlier, when Oliver OM0RX started asking about it, ako sa zúčastniť CQ WW DX Contest-u SSB a prípadne CW. Keďže moje QTH v súčasnosti vyzerá ako stavenisko, so I didn't take it very seriously. I underestimated his desire to contest, because as the race date approached, tak sa pripomínal častejšie a častejšie.
Počas leta som začal s prípravou stožiara z RDM-12. I sharpened it all, painted with primer (2x) a vrchnou (2x) a želal si, lest I make up such nonsense. Je to veľmi prácne a prístup do vnútra stožiara je náročný pre oceľovú kefu či brúsne kotúče. Okrem toho došlo k výkopu piatich jám. Fortunately, no longer by hand! Three already have anchor pipes concreted, one not yet. Ostáva hlavná jama s opornou konštrukciou a zdvíhacím mechanizmom.
A keďže za domom sa ešte vyrovnáva záhrada, so Shrek's Swamp is a more pleasant place. Ale slovo dalo slovo a podujal som sa doplniť Diamond W-8010 antenna o druhú sadu ramien, to make it available 5 band. Samozrejme to neladilo a zabralo ešte dva ďalšie večery, while I tuned the antenna to each band.
My setup is quite classic, Yaesu FT-1000MP. Mám k tomuto zariadeniu aj homemade SDR panadaptér a CAT pripojenie cez MicroHAM do počítača s osvedčeným N1MM+ logom. Keďže aj vnútri domu sa mnoho vecí ešte dorába a najmenší HAM mal nedávno rok, so we agreed, že vysielať sa bude z technickej miestnosti. Preniesť tam pracovný stôl si vyžiadalo asistenciu skrutkovača a imbusáka, ale po menšom zápase bol stôl na mieste a celý setup večer pred contestom zapojený.
Oliver started the race, OM0RX. In the morning, I just evaluated how he was doing or not. It's not funny, The W-8010 has a width of about 30 kHz v pásme 80m. We pulled it through the tuner as much as we could. Japonskí konštruktéri si podali ruku s japonskou anténou a natiahli to asi na 160 kHz. Paradoxically, it also broadcast quite decently.
Signály na vyšších pásmach mali v sobotu ráno akoby aurorálne zafarbenie. And of course, na väčšinu z nich 100W do toho kusa drôtu nestačilo. In the morning, however, the stations also showed up on the 10m band. The lesson spoke, that any such connection should be used, because the band may no longer be opened at all. On the whole, it went slowly on this band. It is strange to contest without the need to rotate the antenna. It will either pass or not. Although at DXm it was not possible to produce any DX stations (nieto NA), but a few dozen connections pleased him.
However, a little more unpleasant turned out to be 15m. Predsa toto pásmo dáva priestor na urobenie DX spojenia a získanie cenného násobiča. Whether you hear UA9, JA or W station does not mean, that it can be invoked on them! Many other contestants have the same goal, who mostly use more efficient antennas or more power!
Why I don't like the multi-single category? For a 10-minute rule. Videl som už veľa denníkov z tejto kategórie a mnohokrát mi vyšlo porušenie tohto pravidla. That's what he says, že na inom pásme je možné spraviť spojenie len pokiaľ ide o násobič. Well, let's say I make four connections there, so I reach the average 0,4 QSO / minúta a zároveň som na 10 minutes "closed" without the possibility to increase this number in another band!
On the other hand, it is a challenge. The challenge is to know how to select the correct band or just "bounce" the multiplier. Only that bounce can last too 5 minutes (pamätajte na nízky výkon a slabučkú anténu).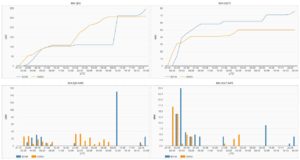 Oliver took over the night shifts in the lower bands, for which he deserves thanks. Without it, such a continuous broadcast would not be possible. Although it does not die during the contest, nerodí a nesvadbuje, ale predsa je rodina okolo Vás a 1-ročný rádioamatér si tiež chce povysielať 🙂
The next day, we focused our efforts on raising the score at the expense of the connection. It meant invoking multipliers. What a joy to do NA at 15m! Alebo VY2ZM v pile-upe staníc! Mnohé stanice sme našťastie ani nepočuli a tak sme sa nemuseli trápiť tým, that we will not appeal.
In the evening, we pushed the score over 300,000 points. The number of connections stopped at 1107. Online contestový server https://cqcontest.net/ mal nejaké výpadky a preto záver pretekov v ňom už nevidieť.
Thank you very much, who caught our weak signal in a fascinating sea of ​​signals, thank you to my family for the space to realize our folly and birds good luck!