I don't like handheld microphones. Headphones with a microphone give me the advantage of two free hands, some noise isolation from the surroundings and at the same time a constant distance of the microphone from the mouth. Electret microphone has a balanced frequency response, high output voltage, small size and low price. At the moment, it is not a problem to buy a desktop microphone or headphones with a microphone for a computer for a few euros. But how to connect them to the transceiver?
Tip: influence of the separating capacitor
Several radio amateurs failed the connection by incorrectly selecting the isolating capacitor. The input impedance of the transceiver's microphone input is 600 Ohm. If the value of the isolating capacitor is low, this creates a frequency-dependent voltage divider. Low frequencies picked up by the microphone are suppressed. This is incorrect.
Each voice has an individual characteristic. By suppressing low frequencies, a significant change in color can occur. In addition, most transceivers have a built-in very low frequency filter, which we do not need for communication. At the same time it has an equalizer or adjustable frequency characteristics.
Therefore, I bring the signal from the microphone without significant adjustment and I adjust the frequency characteristic of the transmitted signal by setting it, to best suit my needs.
Electret microphone for Kenwood TS-2000
The advantage is, that the Kenwood TS-2000 microphone connector has a supply voltage of 8V (max. 10mA). An electret microphone is supplied from this source via a resistor and a modulation voltage is supplied to the transceiver via a isolating capacitor.. The value of the isolating capacitor is 2,2 uF. The cut-off frequency for -3dB is therefore 120 Hz.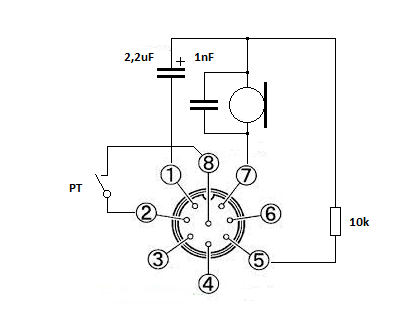 The whole connection is so small, that it is not a problem to build it directly into the microphone connector. A cable terminated with a CINCH connector for is also led out of it PTT foot switch.
Kenwood TS-2000 modulation settings
TS-2000 allows you to set the width of the transmitted signal in menu no.22. Widths are available 2,0 – 3,0 kHz. However, they also differ in lower and upper frequency. I like the width the most 2,6 kHz. The smaller width has a lower frequency 300 Hz and that is already audibly changing the characteristics of my voice.
In menu no.21 there is a TX equalizer. I have it set to H, which means emphasizing heights.
I set the microphone signal level according to ALC (value for me 30). I have the speech processor level set to 35. Such a signal shall also meet the criteria set out in https://cq.sk/zly-a-horsi-ssb-signal/ Is possible, but your settings will be different.